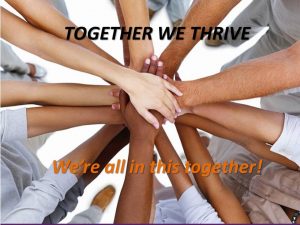 u
Have you done a lot of Personal Development training and studying, bought the programs, read the books – and still aren't getting the success you really desire? Are you tired, and I mean discouraged, of trying to figure it out on your own?
STOP!! Don't try to do it alone!!
Do you know what?  No one has ever achieved any real measure of success all on their own.  We can't do it all on our own – we all have blind spots, we need perspective, and sometimes a kick in the ass!
Isn't that GREAT NEWS?!?!
You don't have to figure it out on your own.
I am so pumped and excited!!  I am creating a community – a growing number of us are joining together on a very powerful journey to take back control of our lives, to control our circumstances, to control our results, to control our destinies. BECAUSE WE CAN!
AND WE'RE ALL IN THIS TOGETHER!!!
Everyone wants to BE MORE, DO MORE and HAVE MORE! And we are ALL capable of that. So, let's figure it out together. Let's not leave anyone behind!!
There is too much goodness out there for all of us, AND WE ARE SO WORTHY!!
Are you ready to make a decision to take control? Are you tired of chasing success? You no longer have to chase it – you can CREATE it! You have within you RIGHT NOW all the power, all the resources you need to create and achieve your own desired successes, your own extraordinary life circumstances.
But sometimes it's hard to figure it out on our own, or if we do figure it out, sometimes its hard to persist and keep at it.
BUT WE CAN DO THIS TOGETHER BECAUSE TOGETHER WE THRIVE!!
Are you catching on? Are you ready to Catch The Wave?
Or are you plagued with thoughts of "I can't right now because …", "I don't have what it takes", "I don't know if I can…" or "How could I do that?"
Those are your excuses, and your excuses are your paradigms – your subconscious wiring. And that wiring (or programming) OWNS you. But you have a choice. You can take control. Your future is at the moment hinged to your current programming. But you don't have to let it!
Do any of these situations resonate with you: "I keep having prospects cancel." I am working so hard and yet my bank account doesn't reflect that!", "I need to take on another job just for now to help make ends meet", "When does this get easier?"
It's not about working harder, it's about working smarter, and it's about doing the right things that serve you towards achieving the success you desire. Most people don't realize that. Simple concept, not so simple to figure out how. But it's a heck of a lot easier when we do this together.
In his terrific book entitled You2, Price Pritchett writes that "the tendency when things aren't working as well as they should be is to go back to the basics and "do what you do best." But doing what you do best can be the worst thing you could do. It really doesn't matter how well you can do something if it's the wrong thing to do!" That's when the powerful benefits of doing this together really take hold!
You have the power to break out, to try something different, to abandon the status quo and create your own destinies.
You can!  Do it!  It's so worth it!
BUT DON'T GO IT ALONE.  WE CAN DO THIS TOGETHER!!
Bob Proctor says that when a person refuses to accept responsibility for their life, they reject their uniqueness and they turn all of their power over to other people. They are no longer in control of their future.
DON'T DO THAT!!  You must make a decision, a COMMITTED decision to Go For It!
I implore you – don't miss the wave, especially when you have everything you need right now to go for it, to go for the results you would truly love to see in your life.
Join us on this journey to take control of our destinies, to live a rich and fulfilling life, to boldly go where you haven't been before.
We're doing it together. Because we can! And we should!
TOGETHER WE THRIVE!!